Summer Activities at the Playground
To compliment our fantastic indoor and outdoor play facilities we also offer a varied programme of activities taking place in the Playground and the wider Country Park. Why not come along and try something new!
All sessions are led by our trained staff and are included in the cost of entry to the Playground.  Book now simply select the day and session time you want and either shared or individual use entry to the playground.
---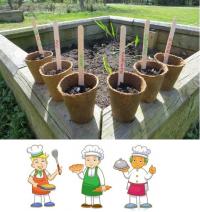 Mondays - Horticulture or Baking
10am 'til 1pm
On horticulture days help us plant flowers and sow seeds to add to our blooming sensory garden and learn how to take care of plants at home. 
On baking days learn new cooking skills and bake a range of treats - from cookies and chocolates to healthier lunch options.
---
 Tuesdays - Meet the Aldenham Animals
10am 'til 1pm & 2pm 'til 5pm.
Get up close to our furry friends and say hello to the guinea pigs, rabbits, sheep, goats, alpacas, ponies and other animals that live on the farm.
---
 Wednesdays - Sports and Games
2pm 'til 5pm
Join us for sports day where we will be playing classic games such as egg and spoon and beanbag races as well as lots of other fun team games.
---
Thursdays - Water Play
10am 'til 1pm
Make a splash with our water pump as we play games and channel water into buckets and funnels to turn the water wheel – perfect fun on a hot Summer's day!
---
 Fridays - Over 18s SEN Play 
2pm 'til 5pm
Spend the afternoon playing pool, relax on the beanbags in our new chill out room or simply enjoy our indoor and outdoor play facilities. 
---
Saturday Club
10am 'til 1pm
Join us on Saturdays for more fun and games at the playground...